---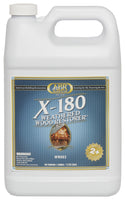 X-180 Wood Restorer 
Developed because exterior wood surfaces, including decks and shake roofs, become discolored from dirt and general weathering. X-180 Weathered Wood Restorer counteracts the weathering process by eliminating years of fungus and discoloration from cedar, redwood and other types of wood.
It cleans and restores wood surfaces back to the appearance of new lumber. Using high pressure water alone to clean wood will create damage to wood fibers as well as uneven stop and start marks. Water will not remove the fungus growth in the fibers.
X-180 Weathered Wood Restorer will remove rust stains caused by nails, screws and fasteners.
Coverage: 125 to 250 Sq Ft. per gallon when used full strength. Follow label directions for dilution percentages. Coverage will double with a one to one water dilution.
Note: Oxalic Acid Wash
 Made in the U.S.A. 
(We Ship Continental US Only)