---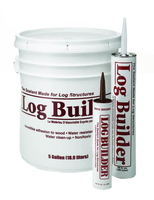 Sale
 Log Builder Caulk
Log Builder Caulking was designed to absorb most log movement. Most movement occurs within the first few years, when logs loose the majority of their moisture causing them to shrink and the joints to expand. Since it stretches and compresses up to 100% of the original joint size and stays elastic, Log Builder won't crack, peel or pull away from properly prepared logs. Instead, it creates a tight seal to keep water, dust, bugs and wind from seeping into your home - for many years.
Log Builder is the smooth sealant for milled and hand-crafted log structures. This Log Builder is used for checks, cracks, or seams.
Tooling
Log Builder should be tooled directly after application to ensure good adhesion and a smooth looking head.  Log Builder may be tooled with ordinary masonry-type tooling blades, a wetted finger, or damp polyethylene foam brush.  Work the material smooth, tooling Log Builder tightly to the surfaces, keeping a rag handy for clean up.
Note: Apply Backer Rod to an opening of 1/4" or more check, crack, or seam.   Backer rod also serves by adding insulation value and reducing the amount of  Log Builder caulking needed.  
Shelf Life:  3 Years Freeze Thaw Stability
 Made in the U.S.A.
(We Ship Continental US Only)