---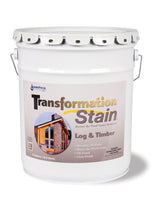 Free Shipping 5 Gallon Pails Only. 
"A Better Way to Stain" 
Not sure what color? Click here to REQUEST A STAIN SAMPLE!
 A Better Way to Stain"

It's about Transformation: old and weathered logs brought to life again, or timbers refreshed with color when they were once only gray.
These are the results we want for our dream home, but sometimes those results seem like a distant fantasy. We've seen other log and timber homes scorched by the sun and are afraid of the "big project" nature and the hefty price tag of maintaining our own. Contrary to common wisdom, having a great quality stain is only half the battle. The other half is what is neglected the most: routine maintenance.
Over time, routine maintenance is truly the key to easier and less expensive staining. When done every 3-5 years, we find that routine maintenance saves a lot of time and money by elimination much of the prep work before staining. Simply do a light power wash, allow the wood to dry at least 2 to 3 drying days and apply a maintenance coat. No Sanding or stain removal necessary. Your contractor will be happy you called sooner than later, and your pocketbook will be, too! It's that simple.
Use a quality stain like Transformation Log & Timber and you'll transform the look of your wood. Practice routine maintenance, and you'll discover a better way to stain.
Stunning Oil Finish
Show the Wood Grain
Perfect for New Construction & Restoration Projects
Oil-Based
Gloss Finish
Routine Maintenance
Everyone knows that a $30.00 oil change twice a year beats a $2,000 mechanic's bill. Routine maintenance on your logs or timbers could be the difference between $2,000 every 3-5 years or $20,000 to completely redo the job.  It's truly the key to a better way to stain.
Coverage Rate
1st Coat 150-250 sq. ft./gal
2nd Coat 300-500 sq. ft./gal
Coats: 2
Usage: Exterior
Shelf Life:  3 Years 
Note:  Use CPR log cleaner and brightener to clean the logs.   Other products you might want to consider is our Armor-Guard prior to staining (has to be used on bare wood only) this is a borate powder.  For application use our (#F5116) 4 3/4" Wooster Bravo Stainer paint brush or (#F-5119) 4 Inch Wooster Oil Stain paint brush for excellent results with all exterior or interior oil based stains. Also you might want to add Bug Juice, an added insecticide for crawling insects, or M-1, an added mildewcide for interior or exterior, which inhibits Mold & Mildew in coatings. 
 Made in the U.S.A. 
 (We Ship Continental US Only)