---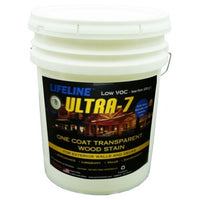 Free Shipping 5 Gallon Pails Only.
 Lifeline Ultra-7 
Not sure what color? Request a sample!
New Colors: Eucalyptus, and Gray. 
Lifeline Ultra -7 is our highest quality one coat wood stain enhanced with advanced polymer resin that deliver sophisticated color, unmatched durability and maximum coverage.
High coverage rate
Excellent UV protection
Easy maintenance procedures
Breathable film allow unseasoned logs to dry out
For walls and decks
Comes with a 5-Year warranty for vertical surfaces
Compatible with all Perma-Chink  systems wood care products
 Coverage Rate: 300-400 sq. ft./gal
Coats: 1
Usage: Exterior
Not sure on what color? Request a sample!
Free shipping on the first 5 gallon pail of any of our stains then $5.00 UPS charge for each additional 5 gallon pails.  This is for our Retail customer's only.  you will need to call for us to honor this sale.  Free shipping cannot be processed on our online orders.  please call us to take advantage of this offer.  Must order more than 1 (5 gals pail)
Give us a call and we would be happy to help you!
I-Wood-Care
607-674-2591
Clear coat with Lifeline Advance to complete the system.
Note: Use Log Wash which removes many types of bare wood discolorations or Wood ReNew which helps remove grayed wood fibers to clean the logs.  Other products you might want to consider are Armor-Guard prior to staining (has to be used on bare wood only) this is a borate powder.  For application use our (#F-5119) 4" Wooster Bravo Stainer, or (#4050) 4" & 6" The Stainer paint brush for excellent results with all exterior or interior water based stains.  Additives include M-1, an added mildewcide for interior or exterior which inhibits Mold & Mildew in coatings. 
 Made in the U.S.A.
(We Ship Continental US Only)