---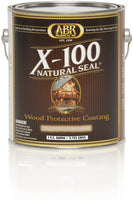 X-100 Natural Seal Wood Protective 
Not sure what color? Request a sample?
X-100 Wood Finish formula is a highly rated wood preservative consisting of 21 essential wood protecting ingredients blended in an ozone friendly paraffinic oil which is non-sensitive to ultra violet rays.  Designed to penetrate wood.
For sidewalls, Decks & Roofs
Protects Seasoned and Unseasoned Wood
Pressure Treated Wood Surfaces
Log Homes, Board & Batten Siding, Log Siding, Wooden Structures
Coverage: 100-200 sq. ft. per gal
Note: Certain caulks will not adhere to X-100 Wood Finish.  Please call us and we would be happy to assist you.
Note:  Use X-180 Weathered Wood Restorer to clean the logs. Other products you might want to consider is our Armor-Guard prior to staining. (has to be used on bare wood only)  This is a borate powder.  For application our (#F5116) 4 3/4" Wooster Bravo Stainer paint brush or (#F-5119) 4 Inch Wooster Oil Stain paint brush for excellent results with all exterior or interior oil based stains.  Additives include Bug Juice, an added insecticide for crawling insects, or M-1, an added mildewcide for interior or exterior, which inhibits Mold & Mildew in coatings. 
 Made in the U.S.A
(We Ship Continental US Only)