---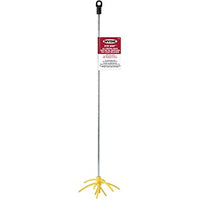 Designed with a 3/8" steel hex shank and a nylon mixing head, the Stir Whip features flexible "fingers" that reach into the corners of containers for more complete mixing.
Cleans up in seconds
Flexes to fit through 5-gallon pour spout for use without opening the bucket.
Maximum lift from the bottom of can
Great for mixing the new Capture (Flex Tints) Log Stain and Transformation Log & Timber (Flex Tints).