---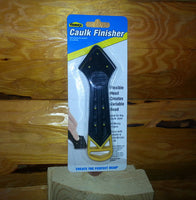 Create the Perfect Bead with Homax patented Caulk Finisher.  The Caulk Finisher creates a smooth, professional bead every time! 
No more sticky fingers and messy caulk jobs.  The Caulk Finisher removes excess caulk while smoothing the material into gaps.  
Flexible head
Creates Variable Bead
Ideal for Any Caulk Joint
Works with Latex/Acrylic/Silicone Caulk
Create the perfect bead.