---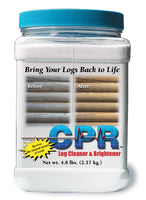 CPR is used to clean and brighten wood that is dirty, faded or gray from UV exposure. Mix CPR to the brightening solution strength for use on new construction just prior to staining to remove dirt and grime from the building process and to break down mill glaze. Mixed at the cleaning solution strength use for periodic cleaning on stained logs to extend the life of your stain.
This will revitalize your previous stained wood or bare wood.
Coverage:
100 - 150 sq. ft. per gallon
500 - 750 sq. ft. per 5 gallon depending on wood porosity
Note: CPR is not recommended for use on Redwood, Douglas Fir or other high tanning woods.  CPR may occasionally darken these woods-Please test first. 
Red Pine, and white pine are both fine for CPR
This is a per carbonated cleaner.
  Made In the U.S.A.
(We Ship Out Continental US Only)