---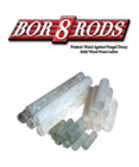 Bor8Rods are easy, low-cost and EPA-approved as a decay protection and prevention system for wood. Similar in looks to glass rods, they are available in a variety of sizes for a wide range of applications. Bor8Rods are molded from fused, water-diffusible borates which are internationally recognized as an effective and well established wood preservative.
Borates also effectively control termites, carpenter ants, and variety of beetles, along with many other wood boring insects. Borates are highly toxic to fungal decay and many insects at concentrations that are not poisonous to humans or other mammals.
You may also like: Armor-Guard, or Board Defense, depending on application.
 Made in the U.S.A.
 (We Ship Continental US Only)