---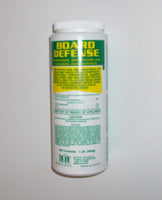 Board Defense is a water soluble inorganic borate salt for protection and treatment of logs and lumber against decay fungi and wood boring beetles and subterranean termites.
This 1 lb container of powdered Borate is mixed with water - ideal for use in restoring or pre-treating a smaller area of decay or insect damaged wood. (For borated treating an entire home see our "Armor-Guard" products, available in a 17 lbs. pail.
Targets Wood Destroying Organisms Including:
Decay Fungi
Subterranean Termites
Damp Wood Termites
Carpenter Ants
Powder Post Beetles
Longhorn Beetles
Old House Borers
Flat Headed Borers
Coverage: 1 lb to 1 gallon of water 100 sq. ft.
You might also like: Armor- Guard, Shell Guard RTU or Bor 8 Rods, depending on application.
 Made in the U.S.A.
(We Ship Continental US Only)