---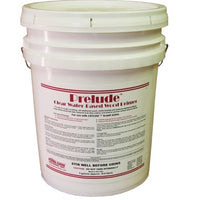 Prelude 
A Clear Primer for Porous Wood Surfaces.
 One coat of Prelude Clear Wood Primer fills the pores of the wood and provides a surface that enables you to obtain a more uniform finish color over the entire home.
Prelude Clear Wood Primer also contains UV Boost for added UV protection.  Prelude is a primer and should never be used as a final finish.
 Coverage Rate:
200-400 sq. ft./gal depending on the porosity of the wood.
Coat: 1
Usage: Exterior
Apply with an airless sprayer, brush, back brush to ensure even coverage.
 Made in the U.S.A.
(We Ship Continental US Only)