---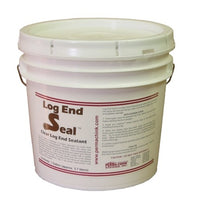 Log End Seal 
Protect Exposed End-Grain from the Elements.
The end-grain of wood is particularly vulnerable to sun, rain, snow and ice, which can lead to excessive cracks and checks.  End-grain can also act like tiny straws, drawing excessive moisture into the wood.  Log End Seal provides a durable, water-repellent barrier against these problems before they begin.
Coverage Rate:
30 to 40 sq. ft. per gallon.  One gallon will coat approx. 180 six inch diameter log ends or 100 eight inch diameter log ends.
Coats: 1
Usage: Exterior
Apply with paint pad or sponge or short bristled brush.
Dry to touch in 2 to 4 hours.
 Made in the U.S.A.
(We Ship Continental US Only)