---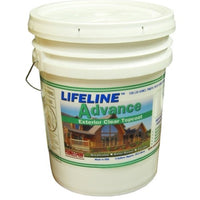 Free Shipping 5 Gallon Pails Only.
Not sure what color?
Lifeline Advance Top Coat 
 Clear Topcoat-the Second Component of Our Exterior Finish System.
Lifeline Advance works just like the clear-coat on your car to protect the color coat underneath.  It extends the life of the finish system while adding depth and highlights to the appearance.  It makes your exterior walls easier to keep clean.
Satin or Gloss finish
Simplifies and reduces maintenance of your exterior finish
Significantly extends the life of the finish system
Adds depth and luster to appearance
Extremely high coverage
Breathable to allow logs to dry out
Environmentally friendly
Only for use over Lifeline Ultra-2 , Lifeline Ultra-7, Lifeline Exterior or Lifeline Accents
Coverage: 800-1000 sq. ft./gal
Coat: 1 or 2 coats application over LIFELINE stain.
Usage: Exterior
Sheen Available: Satin or Gloss
Request a sample!
Note: Use Log Wash which removes many types of bare wood discolorations or Wood ReNew which helps remove grayed wood fibers to clean the logs.  Other products you might want to consider are Armor-Guard prior to staining (has to be used on bare wood only) this is a borate powder.  For application use our (#F-5119) 4" Wooster Bravo Stainer, or (#4050) 4" & 6" The Stainer paint brush for excellent results with all exterior or interior water based stains.  Additives include M-1, an added mildewcide for interior or exterior which inhibits Mold & Mildew in coatings.
(We Ship Continental US Only)
 Made in the U.S.A.