---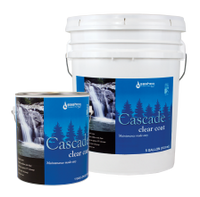 Cascade Clear Top Coat 
Free Shipping 5 Gallon Pails Only. 
Now Available in Matte & Semi-Gloss Finish
Not sure what color? Click here to Request a sample!
Capture the timeless beauty of natural grain. Nature is beautiful but harsh. So Capture log stain is specifically designed to protect your home no matter what the weather condition or elevation. Capture's unequaled formula allows the coating to move freely as your logs inevitably expand and contract (as moisture escapes and temperatures change). Which means no pealing, flaking or chalking-just a beautiful coating that really lasts! It's truly remarkable and unheard of until now an elastic coating that stretches with log movement.
This flexibility permits the bridging of small cracks in the surface of wood and provides an elastic shield for the underlying wood. Virtually no other coating provides this level of elasticity. Loaded with UV absorbers, Capture protects your home from the damaging effects of the sun's ultraviolet rays. Capture glides on and clean up is easy with just soap and water. Capture is the pigmented part of a two-part system: An extremely effective, attractive stain followed by a clear, weather-repellent topcoat called Cascade.
Cascade provides added exterior protection against damaging UV rays, molds and fungi. It dries with a modest sheen and adds depth to the appearance of stained logs. You chose your logs for their unique and rustic beauty. So why hide it? Use one of Capture's ten beautiful, transparent colors and see your logs come alive as every knot, grain and detail is enhanced.
Control surface mildew: To further enhance protection from mildew growth on the surface of the stain, add in Stay Clean IE Mildewcide to each pail of Cacade.  Cascade is already boosted with algaecides to resist algae growth.
Easy to know when:  If the surface has lost it's sheen, it's time for maintenance.  No second-guessing necessary.  It's the easies way to keep your home looking like the day it was finished.
Protects against UV damage: Cascade protects Capture Log Stain from major color shifts to maintain that just stained look. 
Coverage Rate
400-600 sq. ft./gal depending on surface roughness.
Cascade is applied as a top clear coat over Capture Log Stain for added exterior protection.
Note:  Use our CPR Log cleaner and brightener to clean the logs.  Other products you might want to consider are Armor-Guard prior to staining ( has to be used on bare wood only) this is a borate powder.  For application use our (#F-5119) 4" Wooster Bravo Stainer, or (#4050) 4" & 6" The Stainer paint brush for excellent results with all exterior or interior water and oil based stains. Also you might want to add Bug Juice, an added insecticide for crawling insects, or M-1, an added mildewcide for interior or exterior which inhibits Mold & Mildew in coatings. 
Now Available in Matte Finish 
Our Original Cascade is now called Semi-Gloss
 Made in the U.S.A.
(We Ship Continental US Only)