---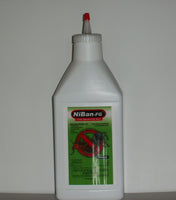 NiBan-FG is an insecticide granular with dual attractants to control ants, crickets, cockroaches, silverfish and more. It is a moisture-resistant, fine granular bait that can be used indoors and outdoors.
NiBan-FG granules provide versatile use and virtually odorless. This product comes in a convenient 1 lb applicator bottle with dusting tip. Weathered & Moisture Resistant.
Application: Treat exterior perimeter areas of structure in a band 2 to 4 feet wide at a rate of 6 ounces per 100 sq ft.  Also apply product in a 2 to 4 foot band around all trees, stumps, firewood piles and other locations where Carpenter Ants may nest.  If the nest is located in a hollow tree or stump, apply 1/2 to 1 ounce of product directly into the cavity.  Apply along ant trails and in areas where ant activity has been noted. 
 Made in the U.S.A.