---
Posted by Kelly Winner on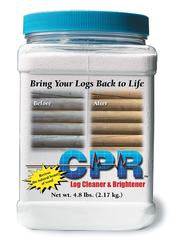 Before you apply any type of coating to logs, the surface must be clean and free of any dust, debris, unsound surface wood or mill glaze.  A typical log surface is coated with "mill glaze".  A typical log surface of wood when leftover tree resins and sugars react to the mechanical and heat energy from the milling process.  This layer of glaze can be almost impenetrable to stains.  It must be removed before good penetration and adhesion can occur.  The best overall cleaning method is corncob or glass media blasting.  Sashco's sodium per carbonate cleaner, CPR, can work well for...
---
Posted by Kelly Winner on
Chlorine bleach Pros: Strongly bleaches all types of wood Inexpensive Readily available Kills mildew Cons: Chlorine gas can be released if chlorine bleach is mixed with other household chemicals, such as ammonia. Chlorine gas can be hazardous or fatal Kills plants, especially new growth Can over-oxidize wood cell walls and degrade them Very corrosive to metal fasteners ( nails and screws) Can affect adhesion of coatings if not completely rinsed from the logs surface Oxalic Acid Pros: Particularly good at removing tannin stains It is the only cleaning product of choice for redwood - other type cleaners will discolor redwood...