---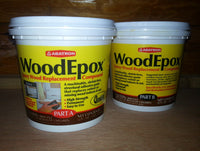 WoodEpox Kit 
Shrink-free adhesive putty Wood replacement compound that can be used in any thickness in structural and decorative applications to replace, repair, extend, or fill wood and other materials.
Uses:
WoodEpox is ideal for repairing, replacing, or adding to wood and most rigid surfaces, as well as to dried out, rotted or spongy wood consolidated with LiquidWood.  Use on windowsills, thresholds, window and door frames, columns, stair steps, balustrades, floors, capitals, moldings, doors, shutters, indoor and outdoor furniture, statues, archaeological and restorations. 
Features & Benefits:
WoodEpox bonds permanently with high strength to most surfaces.  It fills cracks, holes, and voids of any size without the shrinking and crumbling of common wood fillers.  It can replace or add missing or new sections.  Because of its strength and durability, it is a truly permanent solution where alternatives will fail.
WoodEpox  succeeds because it can be painted, stained, wood-grained, sawed, nailed, planed, sanded, cared, and machined like wood.  It has a light, neutral color that can be changed, while mixing, with pigments. (See our Pigments)
Contents: The WoodEpox Kit is a light-weight epoxy adhesive system consisting of (2)components: Resin past (A) and Hardener past (B). When A and B are mixed in equal volumes, the blend hardens within 1 to 2 hours into a light-weight, non-shrinking, tough adhesive mass with high dimensional stability that has chemical, water, heat, and weather resistance.
Q. How long should I wait to paint, stain, or sand after applying LiquidWood and WoodEpox? Wait about 24 hours after the products have hardened.
Coverage Rate:
2 Pints will cover 58 Cubic Inches
2 Quarts will cover 115 Cubic Inches
2 Gals will cover 462 Cubic Inches (Call for this Special Order)
(We Ship Continental US Only)