---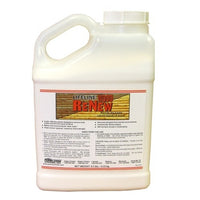 Wood ReNew 
Renews the Natural Beauty of Bare Wood
Wood ReNew is a cleaning concentrate for use on bare wood surfaces.  A safe, effective cleaner it is the best product to use for removing UV damaged gray wood fibers, mill glaze mold and mildew.
Wood ReNew will also help remove old worn finishes, mill glaze mold, mildew and dirt from wood surfaces.  Wood ReNew is not a maintenance cleaner for cleaning finished surfaces.
This will revitalize your previous stained or bare wood surfaces.
Coverage Rate:
Add 4 cups of Wood ReNew to 5 gallons of water.  Each gallon of mixed solution will clean approx. 150 sq. ft. of wood surface.
One gallon of wood ReNew makes 20 gallons of solution, enough to clean approximately 3000 sq. ft. of wood surface.
Size: 1 gallon
Usage: Interior/Exterior   
 NOTE:  You may also consider Log Wash will remove many types of bare wood discolorations including brown chemical stains.  This is a per carbonated cleaner.
  Made in the U.S.A.
 (We Ship Continental US Only)