---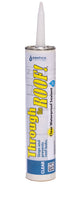 Through the Roof 
(This is sold in full cases only)
Through the Roof! is the clear, ultra-elastic roof repair caulk made to permanently stop and prevent roof leaks. It effectively seals around a variety of rooftop fixtures and roofing materials without the messy look of asphalt.
Why use Through the Roof?
Stops and prevents roof leaks
Waterproff - repels water immediately
Ultra -clear - seals over tile, brick, shingles and more - invisibly
Can be applied to wet surfaces and in cold temperatures, even in the rain
Lasts longer than messy black asphalt caulks
Excellent UV resistance
Expands and contracts with temperature changes
Won't dry hard or crack
Features
Permanently fixes nagging leaks:  Proven to last 20 times longer than asphalt. Remains elastic and water-tight year after year.
Do repairs today, even in a rain storm: Sticks to surfaces wet or dry, in temperatures down to 0 and up to 120 F.
Repairs Stick, but don't stick out:   Tenacious adhesion to a wide variety of roofing materials and won't discolor them.  Goes on crystal clear and stays clear.
Easy to use:  Easy to apply for professional-looking results every time.
Ok to leave in your unheated garage overnight: Through the Roof! wont' freeze.
For repairs that stick, but won't stick out, use Through The Roof! on common roofing fixtures and materials, including:
Flashing
Gutters
Vents
PVC & ABS vent pipe
Skylights
Ductwork
Chimneys
Brick/block/mortar
Shingles & shakes
Rubber roof membranes*
Roof jacks, cables and air conditioning units
Adheres to most roofing materials, including:
Metals
Aluminum, Brass, Steel, Anodized Windows
Plastics
Abs, Nylon, PVC, Acrylic Sheet, Plexiglass, Urethane, Fiberglass, Polycarbonate, Vinyl, Lexan, Polystyrene.
Other Surfaces
Asphalt, Stone, Brick, Fiber Cement, Stucco, Tile, Concrete, Glass Wood, Porcelain, Mortar.
Do Not Use:
In areas of submersion or frequent, prolonged puddling
With polystyrene insulation
In containment applications
Plastics not listed should be tested for compatibility before use
Will not adhere to or is incompatible with Aquaseal, Kynar polypropylene, polyethylene, silicone, Styrofoam (it dissolves it), Telflon, Waxes.
      COVERAGE:  A 10.5 oz. cartridge will cover approx. 30 lineal feet feet with a 1/4" (6mm) bead.  A quart can will cover approx. 3 sq. ft. at 1/8" thick. 
This is a Synethic Rubber Solvent Base Product.
 Made in the U.S.A.
 (We ship out Continental US Only)