---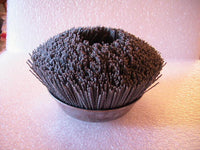 Osborn Buffing Brush
This nylon bristle brush, with grit in its bristles, is used to clean and polish logs.  Ideal for any fuzz left from aggressive power washing.  Brush has 5/8" arbor.  Excellent for secondary prep or hand sanding.  Use on variable speed grind.  4" 6" diameter available.
Requires a buffer or right angle grinder.
Sizes: 6" 80 Grit
Discontinued Sizes In Stock:  6" 320 Grit (Sale Price) $98.72 Give us call and we would be happy to help you!
 (We Ship Continental US Only)