---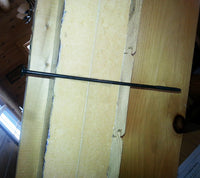 Olylog HeadLok Panel Fasteners By OMG
Heavy Duty Flathead Fasteners
The OMG HeadLok Insulated Panel Fasteners is engineered for heavy duty wood construction tasks such as: Sip Panel construction, Nail borad attachment, and multiply beam connections.
The HeadLok insulated panel fastener is a flat head fastener engineered for a wide range duty wood construction applications including:
Structural Insulated panel construction.
Prefabricated wall panel connections.
Nail board attachment.
Two, three and four ply beam connections.
Stress skin/Timber frame connections.
Fastener Benefits include:
Sharp gimlet point for fast, one step installation into wood and OSB.
Aggressive 2" thread for holding and withdrawal strength.
Wafer head eliminates need for washer and offers dramatically increased pull through strength.
Deep square drive to eliminate cam out.
Self drilling for most applications.
Low profile head does not "Telegraph" through cover layer.
Chamfer under head for increased strength.
Highly corrosion resistant.
100% American Made.
 Made in the U.S.A.