---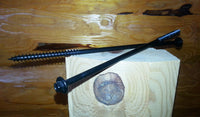 The Log Hog is an extra heavy-duty log home fastener, engineered for specific log home construction applications. The LogHog, with it's oversized head, thicker diameter and additional thread, offeres increased draw down and holding power. This fastener is corrosion resistant guaranteed. Available in lenghts 9" and 12" inches.

Oversized washer head and increased thread combine for dramatically increased pull down for warped and twisted logs.
Installs much faster and easier than lags & spikes- Saves time and fatigue-Dramatically lowers installed cost.
Requires no predrilling-Eliminates on site predrilling. - Eliminates manufacturing drill stations.
Countersinks into log-Allows log to settle naturally.
Removable and reusable.
Eliminates jarring and damage caused by a sledge hammer.
Corrosion resistance guaranteed.
No predrilling.
Self countersinking
100% American Made.
5/16 Hex Head
15/64" Shank Diameter
5/16" Major Diameter
Gimlet Point For Fast Drilling
 Made in the U.S.A.