---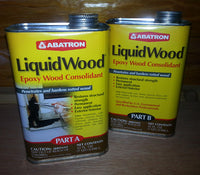 Liquid Wood Kit 
Deep penetrating wood consolidates  that regenerates and waterproofs rotted, dried-out, or spongy wood.  It restores structural strength and durability to wood fibers.  LiquidWood is ideal for regenerating and waterproofing rotted, dried out areas in your log home: spongy window sills, thresholds, window and door frames, millwork of all kinds. With LiquidWood a piece of deteriorated wood that could crumble under finger pressure can be impregnated and restored to rigid, durable, water and weather-resistant wood superior to its original.   The hardened mass can be sawed, planed, routed, carved, drilled, nailed, sanded, glue, and painted.  LiquidWood is also a primer for WoodEpox.
Uses: LiquidWood is ideal for regenerating and water proofing rotted, dried-out or spongy window sills, thresholds, windows and door frames, columns, stair steps, balustrades, floors, moldings, doors, shutters, indoor and outdoor furniture, archaeological and art restoration, boats, and millwork of all kinds.
Features & Benefits:  LiquidWood has exceptional adhesion, structural strength, versatility, permanence, dimensional stability, and water resistance. 
LiquidWood A and B are easy to use, are 100% reactive compounds. 
LiquidWood is also a primer to WoodEpox. Contents: The LiquidWood kit consists of (2) clear epoxy liquids: Resin (A) and Hardener (B). When A and B are stirred
Q. How long should I wait to paint, stain, or sand after applying LiquidWood and WoodEpox? Wait about 24 hours after the products have hardened.
Coverage Rate:
2 Pints will cover 58 Cubic Inches
2 Quarts will cover 115 Cubic Inches
2 Gals will cover 462 Cubic Inches
together in equal volumes, they form a blend with unusual properties to impregnate and restore wood and other porous materials.
(We Ship Continental US Only)