---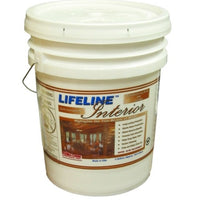 Lifeline Interior 
New Colors: Pickled White and Segull
*Special Order Only
Interior Stain for Walls, Ceilings and Other Surfaces
Accent the beauty of all your interior wood and seal out household odors and contaminants.  Lifeline Interior can be used as a color coat or sealing coat on walls when you want to apply and interior clear-coat for additional protection or luster.  Interior finishes make log walls easy to clean. 
Long lasting interior color coat
Transparent color choices
One or more color coats maximize your interior color choices
Easy application and maintenance
High Coverage rates
Fast drying
Very low VOC formula
Compatible with all Perma-Chink Systems wood care products.
Lifeline Interior will not yellow.  You can apply multiple coats to develop the color and film thickness that you desire.  Lifeline Interior is completely compatible with our interior finish options.
Coverage Rate :
1st coat 350-450 sq. ft./gal
2nd coat 600-800 sq.ft./gal
Coats: 2
Size: 1 Gallons, 5 Gallons
Usage: Interior 
Topcoat with Acrylic Clear Topcoat or Sure Shine.
Note: Lifeline Interior is a *Special Order Only
 Made in the U.S.A.
(We Ship Continental US Only)