---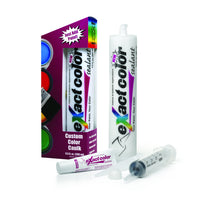 eXact Color Caulk 
Custom Color Caulking Just Add Paint!
(This is sold in full cases only)
eXact color is the easiest and fastest way to create your own custom color sealant.  No special tools are required, simply follow the mixing instructions using your own latex paint, water-based solid stain, or universal pigments. 
Where to Use:
Interior Applications:
Walls
Wallpaper
Tile
Backsplashes
Wood or vinyl molding & baseboards
Exterior applications:
Siding (wood, fiber cement board, vinyl)
Around window or shutters
On brick, stone and stucco homes
Note: Apply Backer Rod to an opening of 1/4" or more check, crack, or seam then apply eXact Color.  
 Made in the U.S.A.
(We Ship Out Continental US Only)