---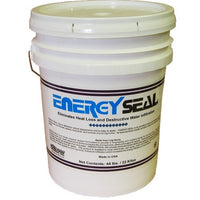 Energy Seal 
Energy Seal is specially formulated for sealing narrow gaps in log home joinery such as butt joints, window trim, door trim and corners.
It is lightly textured to match wood surfaces for applications where you would like the sealant to be invisible.  Energy Seal accepts stain colors and blends into the surface of wood joinery.
High elastic
For use in gaps up to 1 inch wide
Maintenance free
Very low VOC formula
Soap and water cleanup
Compatible with all Perma-Chink Systems wood care products
Coverage Rate:
Example 1/2"  Width of gap 11 oz. tubes 16" LF  Feet, 30 oz. tube 48' Feet per tube, 975' per pail
Usage: Interior/Exterior
Note: Apply Backer Rod to an opening of 1/4" or more check, crack, or seam then apply Energy Seal.
 Made in the U.S.A.
(We Ship Out Continental US Only)