---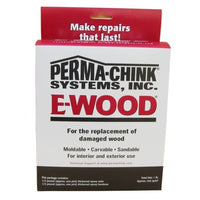 E-Wood 
For filling voids in decayed wood, E-Wood is the perfect product to use.  E-Wood is a two component epoxy wood putty that may be used to fill in wood voids.  It can be textured to match the appearance of the surrounding wood.  Hardened E-Wood filler can be sanded, shaped and stained.
Two component wood tone epoxy putty
May be shaped, molded and textured to match the surrounding wood
Soft or decayed wood should be consolidated with M-Balm first
Hardens within 24 hours
Coverage Rate:
1.8 cubic inches per ounce mixed A & B components.
Size:  2 component 32 oz. package,  2 component 2 gallon package
Usage: Interior & Exterior
Note: You may want to consider M-Balm that forms a hard, water-resistant mass.  M-Balm should always be used in preparation for filling pockets of decayed wood with E-Wood epoxy putty. 
 Made in the U.S.A
(We Ship Continental US Only)