---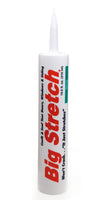 Big Stretch Caulk 
(This is sold in full cases only)
Big Stretch Caulk is used for interior & exterior Doors, Windows, Molding,and Siding. It works when other caulks fail. It has powerful adhesion but stays elastic and rubbery. It will twist, bend, stretch up the 2 Inch gaps and compress to absorb just about any movement a home can dish out.
 Note: Apply Backer Rod to an opening of 1/4" or more check, crack, or seam then apply Big Stretch Caulk.  
(This cannot be shipped out next day air)
 Made in the U.S.A. 
(We Ship Out Continental Us Only)