---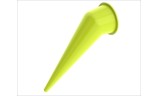 Albion Nozzle Bent Cone Green Angle Extension 29 oz. 935-3
Bent 45 degree angle
Gives you additional reach and the ability to get around corners
7" long 1.5" straight then 5.5" additional after 45 degree bend
Reduces strain by elimination the need to hold dispensing guns, at uncomfortable angles.
Fits all 2" diameter barrel Albion professional bulk and sausage guns.
Use with #421-G01 Ring Cap.
Part Type: Plastic Nozzle
Bead Size: Custom
Special Applications: Bent