---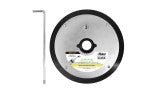 New Slip On Follow Plate for 5 Gallon Pails (No Threading)
Straight or Tapered Pails
Quick Push-On, Pull-Off Feature.

No Threading
(Minimum ID 9-7/8"- Maximum ID-3/8")
Includes a pull rod for easy removal of Follow Plate from Pail.
Steel plates and a nitrile gasket that scrapes the inside of a 3 or 5- gallon pail clean.
It helps prevent air from entering gun barrel during loading. 
Follow Plates designed to minimize the material's exposure to air and improve the loading process. Specific technique or familiarity required to successfully use this accessory. For use for 5 Gals pail's of Log Builder, Conceal Caulk, or Log Jam Chinking.  To be used with bulk loading caulk guns.
Use with our Albion 1 Qt. Caulk Gun Manual bulk loading caulk guns.
(We Ship Continental US Only)