---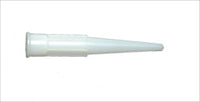 Albion has been a leader in the dispensing tool and caulking gun markets.  
Albion actively designs and patents new dispensing tools for many industrial applications.
Designed to thread onto a plastic cartridge with a male 5/5"- 11 NC thread.  Tip opening is 2.5 mm. Length 4.25".
Note:  Place this inside (#421-Go1) Ring Cap or thread on (#587-2) Cap Insert For Plastic Nozzle.