---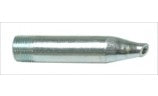 Abion has been a leader in the dispensing tool and caulking gun markets.  Metal Nozzles have all steel construction, zinc-plating and corrosion resistance.  Steel provides the maximum wear resistance when working on surfaces.
Part Type": Metal Nozzle
Bead Size: 3/16
Bead Type: Round
Excellent wear resistance when working on masonry and abrasive surface.  Provides a round bead of sealant commonly used to fill joints or apply adhesives to surfaces.  
Note: These nozzles fit on our Albion 1 qt. manual bulk loading caulk gun.  (DL-59T17)
(We Ship Continental US Only)