---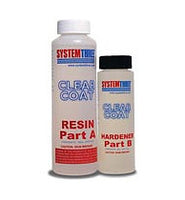 Clear Coat By System Three
Clear Coat by System Three is unique 100% solids low viscosity formula that contains no volatile solvents and cures to a crystal clear, ultra-high gloss finish. Its two part expoxy coating and laminating resin is for use in marine and woodworking applications. Use Clear Coat as the sole epoxy system to make wood strip canoes and kayakes.
Clear Coat is an extremely low viscosity, water white, "penetrating" epoxy system.  Clear Coat cures to a brilliantly clear, very tough finish without the usual "amine blush" associated with some epoxy resin films.  Clear Coat contains no volatile solvents.
Clear Coat can be used as a base for Spar Varnish (which has UV inhibitors) to compliment the MirrorCoat System. Good on vertical surfaces, use it for table legs or the sides of your cabinet or bar top.
Features a convenient 2: 1 mixing ratio.
A clear, almost water-white, solvent-free epoxy system.
Cures to a clear, glossy, blush-free surface.
Bar Tops, Cabinets, Hobby Coatings.
Part A Resin & Part B Hardener
Coverage: 1-1/2 Quart kit will cover approximately 125 to 150 sq.ft.